Performance Air Filters and Induction Kits
← For individual product information and to order use the search function…
---
Air-box Filters
---
The simplest and most cost-effective way of improving engine performance is to replace the standard paper filter with a high-flow Jetex cotton gauze filter. Filtration is 99% at 2.8 microns, and together with a high dust retention capacity, each filter will perform mile after mile, in any conditions. Also, each filter is washable and reusable so there is no need to buy a new filter at every service! A free flowing and effective filtrating air filter will also help to improve fuel economy too. The long term benefits of fitting a Jetex filter are clear.
---
---
Made from 4 layered cotton gauze to allow filtration of all particle sizes. TUV approvals show 99% filtration at 2.8 microns.
Alongside excellent filtration, large volumes of air are allowed through the filter even when dirty. This ensures Jetex Filters work better, for longer.
Amongst the top performers in magazine tests (see below):
---
From Fast Car (2012):
Jetex may be best known for their exhaust systems and custom exhaust parts, but they also had the best performing cotton filter in this test by quite a margin, and the second-best flowing filter overall, behind the stainless-steel mesh Powertec unit. The results are more or less identical to those of the Pipercross foam filter, with a maximum pressure increase of 0.23kPa less than the Green Cotton filter, and 0.37kPa less than the K&N filter. Considering the cotton gauze design should be one of the best at filtering dirt, this was a very impressive result, and it also proved that a good-sized filter is invaluable when going for maximum performance.
[Test was performed on a cone filter]
---
Induction Kits:
For a more advanced air intake modification, an induction kit will ensure faster air intake and improved throttle response. Each kit is designed to replace the existing air box (where applicable) with a conical or cylindrical high-flow sports filter, together with all necessary tubing, fittings and fixings. Performance improvement varies depending on each application, but you should expect a few BHP increase.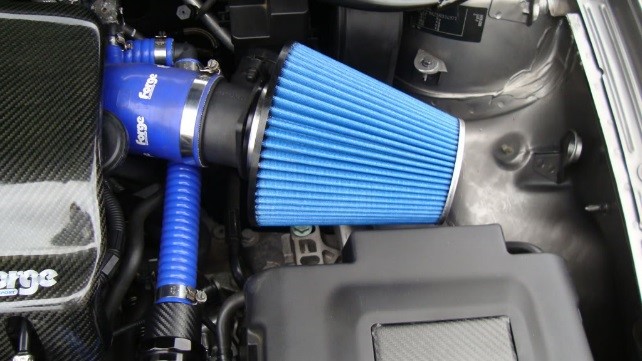 ---