SILENCER FABRICATION COMPONENTS
---
Jetex's range of universal exhaust parts has now been expanded to include individual silencer components, allowing customers to fabricate their own silencers.
CASINGS
Choose from 9 different oval and round casings. Each casing is 500mm long which can be trimmed to suit:

Oval 100/165mm

Oval 100/240mm

Oval 115/185mm

Oval 140/220mm
Oval 140/270mm
Oval 170/240mm
Round 100mm/4"

Round 125mm/5"
Round 140mm/5.5"
END PLATES
Choose from 5 different designs with inlet/outlet hole sizes of 45mm/50.8mm/63.5mm/76mm or 89mm:
Centre Hole
Double Hole
Offset Horizontal Hole
Offset Vertical Hole
Blank
PERFORATED TUBING
Choose from 10 different perforated tubes. Each tube is 625mm long (apart from 3.5" tube which is 240mm long):
42mm
45mm
48mm

50.8mm
54mm
57mm

63.5mm
70mm

76mm
89mm
END PLATE SLEEVES (SLOTTED and STEPPED)
Slotted sleeves should be welded to the end plates. Those sleeves marked with an asterix will match, without modification to our 'off the shelf' end plates. For other diameters (48mm, 54mm, 57mm and 70mm), blank end plates should be used and the appropriate hole size punched or cut out. Alternatively, an end plate with a hole nearest in size can be used and any gaps filled using shims/sleeves of the appropriate diameter.
Slotted Sleeves
45mm*
48mm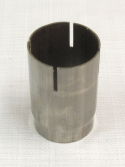 51mm*
54mm
57mm
63.5mm*
70mm
76mm*
89mm*
Stepped sleeves should be used when an end plate with the right hole size is NOT available. For example, if a 70mm bore silencer is required and it is not possible to make a 70mm hole in the end plate, the stepped sleeve 76-70 would be used to drop the end plate diameter from 76mm to 70mm, thus allowing a 70mm perforated tube to be used.
Stepped Sleeves
48-45mm
51-48mm
51-45mm
54-51mm
54-48mm

57-54mm

57-51mm

57-48mm

63-57mm
63-54mm
63-51mm
70-63mm

76-70mm

76-63mm
89-76mm
SILENCER WOOL (Glass and Stainless)
Stainless wire wool should be used to wrap the internal perforated tubing, while bags of E-glass wool are used as sound absorption material. The bags evaporate when used. Each bag is 150g. For guidance on how much wire and e-glass is needed per silencer, please click on the PDF link below:
Wire Wool 1kg

Wire Wool 7kg
E-Glass Wool 150g